Shopping Cart
Your Cart is Empty
There was an error with PayPal
Click here to try again
Thank you for your business!
You should be receiving an order confirmation from Paypal shortly.
Exit Shopping Cart
Online Coaching & In Studio Training for Maryland Residents
| | |
| --- | --- |
| Posted on August 27, 2016 at 4:06 PM | |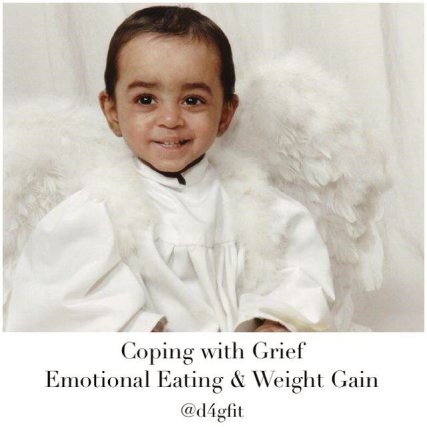 After my son, Bryce, passed from Leukemia, I gained 100+ pounds from grief. I became paralyzed with intense emotions and overwhelmed with guilt, because I could not save him. The loss of control was the most painful. My life as I knew it changed forever, and the very thought of living without him made me want to give up. 
    But, giving up was not a luxury I could take. I couldn't give up, because I had 2 five year old babies counting on me to be strong, so I sought help from my primary care physician. His words resonated with me and changed my life. He stated, "You should feel what your are feeling fully, and then proceed on with your day." These words were so simple, but yet so profound. 
   Too often we don't like to release control of our emotions, because they make us feel weak and out of control. One of the best lessons about loss is that it teaches us we are not in control. 
   I started compartmentalizeing my grief early in the morning during meditaton and prayer time. I really let it rip: tears flowed, screams released, pillows punched, and writhing on the floor in pain became my ultimate release. Getting all of those emotions out before my day began helped me proceed on with a clearer perspective, so I would not carry those feelings with me, nor touch others with my pain. 
   Dealing with the pain also helped stop my emotional eating, and I started working out which boosted my energy and mood. Yolanda Adams and I were best friends. She definietly brought me through many a storm with her music as I hit the gym. 
   Although my loss will never be easy, I've gained coping skills that have helped me shed the extra weight and gain strength. This is my story and I hope it helps someone feel that they are not alone. As scripted "My grace is suffiecinet for you, for my power is made perfect in weakness." Therefore, I will boast all the more gladly about my weakness, so that Christ's power may rest on me. 2Corinthians 12:9 
Categories: Grief, emotional eating, Lifestyle Coaching, Nutrition, Exercise, online coaching, fitness, health and wellness, strength, nutrition, wellness, fitness, nutrition, coaching
/